What to Know
President Obama joined civil rights leaders to open the newest Smithsonian Saturday, ringing a historic bell as the museum opened.

Timed entry passes for the opening weekend are no longer available, but visitors can enjoy a free music festival without tickets.

Be prepared for road closures, large crowds and heightened security in the area surrounding the National Mall.
Bells rang out throughout Washington, D.C. Saturday as the Smithsonian's highly anticipated National Museum of African American History and Culture in Washington, D.C., opened after more than 100 years in the making.
Centuries of struggles and strife, decades of planning and pain, and years of hoping for a place that African-American history can call home culminated as President Barack Obama officially dedicated the museum Saturday morning.
The president opened the museum with the ringing of the historic Freedom Bell from the First Baptist Church in Williamsburg, Virginia, which was organized in 1776 by slaves.
Obama said the new national museum will help to tell a richer and fuller story of the country.
Obama Opens National Museum of African American History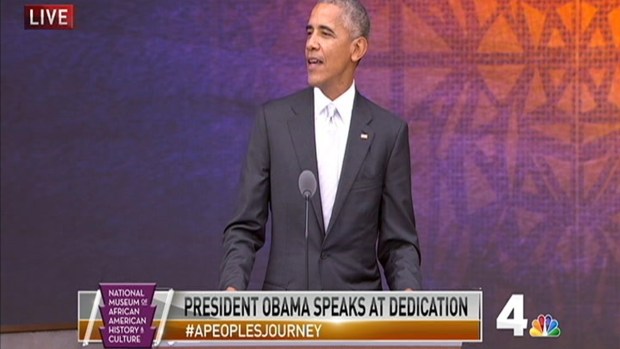 "It helps us better understand the lives, yes, of a president, but also the slave. The industrialist, but also the worker. The teacher or the cook, alongside the story of the statesman," he said. "By understanding this story, it binds us together and reaffirms we are all Americans."
He continued his message of the inclusion of African Americans in American history, calling it "an act of patriotism to understand where we've been."
"We're not a burden on America or a stain on America or an object of shame and pity for America. We are America. And that's what this museum explains," Obama said. "Hopefully, this museum makes us talk to each other and listen to each other and see each other."
With thousands of items occupying 85,000 square feet of exhibition space, the new Smithsonian will chronicle the complex relationship between the United States and a people it once enslaved, and tell the story of those who worked to make the necessary changes to bring the country to where it is today.
The dedication featured speeches by Obama, civil rights leader U.S. Rep. John Lewis, former President George W. Bush and the museum's founding director, Lonnie Bunch. It also featured rousing musical tributes with a local flair, including Howard University's "Showtime" marching band and an a capella presentation by a choir from D.C.'s Duke Ellington School for the Arts.
The museum, the 19th and newest of the Smithsonians, opened to the public following the dedication ceremony.
Oprah, Will Smith Share African-American Journey in Poems
"It's a historic event," said Leslie Howard, who traveled from New Orleans to attend the dedication. "And the fact that we have our first black president to dedicate it shows you how God works."
"We want to make sure we reinforce the commitment to preserve African-American history," said Glen Yonkers, Jr., a member of Omega Psi Phi Fraternity, which was founded at Howard University in Washington. Members marched to the mall for the dedication Saturday.
"Our fraternity was built for African-American men to have a place to share our history and stories," said fraternity brother Jude Collins. "This was the only place to be today."
Seeing the dedication was a family event for many; Alicia Frayer came from Charleston with her husband and three daughters to attend. "I'm inspired by history," she said. "It's a major part of our history, and the fact that our history and culture are here for everyone to see is so important."
Many celebrities came to the museum's dedication as well, including Oprah Winfrey, who has donated more then $20 million to the museum.
The museum tweeted a video of Octavia Spencer and Janelle Monae arriving. Robert De Niro, Angela Bassett, Will Smith and Patti LaBelle were among those presenting during the dedication.
Off to celebrate @NMAAHC ! What a mighty powerful day. pic.twitter.com/dUABVxXhjD

— Oprah Winfrey (@Oprah) September 24, 2016
Many of those present shared their personal connection to the museum's story, including D.C. Del. Eleanor Holmes Norton.
As the great granddaughter of a runaway slave who fled to DC, I am proud to be at the dedication ceremony today for @NMAAHC#APeoplesJourneypic.twitter.com/62i5DjgkfN

— Eleanor H. Norton (@EleanorNorton) September 24, 2016
D.C. Mayor Muriel Bowser spoke before the ceremony, honoring its opening and using the opportunity to call for statehood for the nation's capital, where residents do not have voting representation in Congress. "While we are proud to host this museum ... we know it will show how far Washington has to go," Bowser said.
The museum is offering extended hours for the grand opening weekend, from 1 p.m. to 8 p.m. on Saturday and 7 a.m. to midnight Sunday, but timed entry passes are no longer available. While entry is free, like at other Smithsonian facilities, the museum is instituting a timed pass system to control crowds and alleviate wait times.
Those who didn't score tickets had the option to watch the museum's dedication ceremony in large-screen viewing areas at the Washington Monument grounds, or livestream the ceremony on the museum's website.
A free three-day festival celebrating the talent and creativity of African-American artists is also taking place on the Washington Monument grounds. The Freedom Sounds festival features jazz, R&B, gospel and hip-hop artists throughout the weekend. The Roots, Living Colour and Public Enemy headlined the festival Saturday night, and a surprise special guest is slated to perform Sunday.
Anyone heading toward the museum this weekend should be prepared for large crowds and heightened security.
PHOTOS: African-American History Museum Opening
The push for the museum began in 1915 with African-American Civil War veterans looking for a way to commemorate America's black experience. Former President George W. Bush signed the law authorizing the construction in 2003.
Lewis, who co-sponsored legislation authorizing its construction, said the bronze-colored museum "is more than a building, it is a dream come true."
For more information about the museum, check NBC Washington's full coverage here.