It's an even thinner week than usual for new movies on home video, but there is a neo-noir classic, a cult favorite and some interesting choices for music fans, including the "true story" behind the death of Paul McCartney in 1966.
"Harry Brown" (2010)
Michael Caine stars in this modern-day "Death Wish" as an elderly veteran who reaches his breaking point when some thugs kill his best friend. Caine was once a world-class tough guy -- see: "Get Carter," "Gambit" -- and shows he's still got it. "Harry Brown" also features a stomach-churning turn by Sean Harris as a gun-selling, heroin-shooting pimp. We didn't love it, but it's definitely home-viewing worthy. On DVD and Blu-ray, watch the trailer
"Marmaduke" (2010)
Stars Lee Pace and Judy Greer, two talented and likable actors who deserve far better, and the voices of Owen Wilson, George Lopez and Fergie. We never saw it, but from time to time when folks in the office are in a funk, we fire up the trailer.
On DVD and Blu-ray, go ahead, watch the trailer, we dare you
"Tyler Perry's Why Did I Get Married Too" (2010)
Four couples go on their annual vacation, but the good times are interrupted by the arrival of an ex-husband determined to win back his former wife. On DVD and Blu-ray, watch the trailer
"Red Riding Trilogy"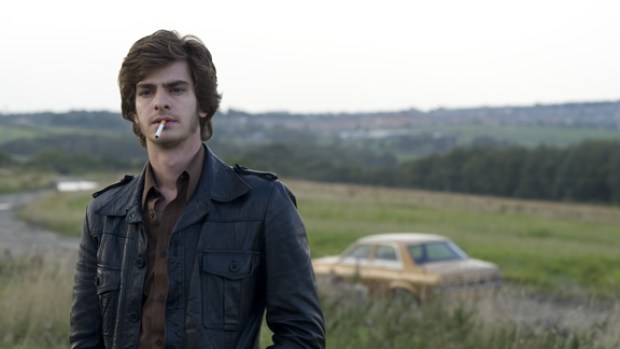 "Red Riding Trilogy" (2010)
From Britain's Channel 4 comes this three-part adaptation of David Peace's novel chronicling a decade of horrifying abuse by the Yorkshire Police Department. Stars Andrew Garfield, Rebecca Hall, Sean Bean, Mark Addy, Sean Harris and Paddy Considine. On Blu-ray and DVD, read our review and watch the trailer
"Evil Dead" (1983)
The film that put writer-director Sam Raimi on the map, stars Bruce Campbell as one of five friends spending the night in a cabin in the woods of Michigan who unwittingly unleash demons. A classic. On Blu-ray, watch the trailer
"Carnivorous" (2008)
This 2008 horror film starring the rapper DMX and originally called "Lockjaw: Rise of the Kulev Serpent," is about some voodoo demon that eats people. As DMX say in the trailer, "The only thing you have to look forward to is the stomach acid." On Blu-ray, watch the trailer

"Legends of the Canyon: Classic Artists" (2009)
A documentary chronicling the rise of Crosby, Stills & Nash, The Byrds, Buffalo Springfield, The Mamas and the Papas, Joni Mitchell, Linda Ronstadt and other inhabitants of Laurel Canyon in the '60s. On DVD, watch the trailer
"Paul McCartney Really Is Dead: The Last Testament of George Harrison" (2010)
This film claims to blow the lid off the real story behind the secret death in 1966 of Paul McCartney and the MI5's involvement in covering it up, as allegedly told by -- wait for it -- George Harrison! Unquestionably an utter piece of rubbish, but it sure sounds like fun. On DVD, watch the trailer
"Jane's Addiction: Live Voodoo" (2009)
Filmed live Halloween Night 2009, features the line-up we all knew and loved as kids: Perry Farrell (vocals), Stephen Perkins (drums), Eric Avery (bass) and Dave Navarro (guitar), doing a set-list taken mostly from the first two albums. On Blu-ray, watch the band play "Stop"

"Thriller: The Complete Series" (1962)
All 67 episodes of the acclaimed "Twilight Zone"-esque anthology series hosted by Boris Karloff that ran from 1960 to 1962 and featured such future stars as William Shatner, Richard Chamberlain, Rip Torn, Leslie Nielsen, Elizabeth Montgomery, Warren Oates, Robert Vaughn, and Marlo Thomas. On DVD, watch a clip