Lucy Punch is a knockout in two senses of the word: not only is the British actress statuesque and gorgeous, she delivers a deft comedic roundhouse that's put Hollywood in her corner.
After several scene-stealing stints in films like "You Will Meet a Tall Dark Stranger," "Dinner For Schmucks" and "Hot Fuzz," Punch unleashes the full extent of her comedy skills as Amy Squirrel, the sweet-natured, enthusiastic and doggedly suspicious rival to Cameron Diaz's "Bad Teacher."
"I don't think I'm stealing any scenes in this movie!" Punch laughs to PopcornBiz about sharing the screen with comedy pros like Diaz, Jason Segal and Justin Timberlake. "What's nice, I think, is when you're working with such fantastic, funny people – It ups your game and it also inspires you. One of my favorite scenes, actually, were the scenes that I got to do with John Michael Higgins – Principal Snur – who I was such a huge fan of before we started working. He would go off. He was one of the only people who really improvised a lot. And [director] Jake Kasdan just allowed him to go off on these tangents. We were all crying with laughter."
Even after scoring big chuckles under the direction of the likes of Woody Allen and Edgar Wright, Punch admits she still has a hard time believing she's going yuk-for-yuk opposite some of the leading laugh-getters in Hollywood.
Cameron Diaz & Jason Segel's "Bad Teacher" Premiere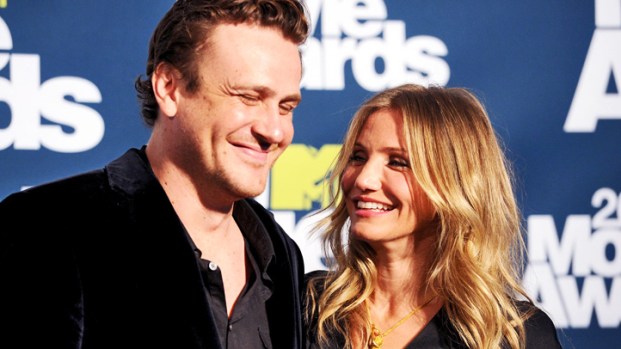 "I'm certainly a bit nervous," she says. "I mean, once I've got the job I'm like, 'Okay. I got the job. I deserved it. It's not crazy that I'm sitting in the same room as these people.' But they're all so cool and funny and warm that you very quickly forget that you're sort of working with these superstars – until you start shooting anything outside and there's a hoard of paparazzi. I'd be like, 'Why? Oh, yes. These are mega-super-duper-stars.'"
As she demonstrates with her pitch-perfect perky Midwestern tones in "Bad Teacher," Punch has mastered masking her Queen's English with a variety of American accents. "It's like the rhythm, the music of an American accent," she says of changing up her line deliveries. "Certainly doing comedy, I always find it hard if I'm at an audition and I'll do it in my British accent or my American accent and someone goes, 'Actually, can you do it the other way?' There's a way of making a line funny in an American accent, and it's totally different in a British one. Either you can't make it funny or there's a different way to make it funny."
She's also amused at how easily charmed Americans are by her Brit-speak. "I'll be in Starbucks and someone will go, 'Oh, you're adorable!' Then I'll be back in London, getting my coffee at Starbucks and there's no reaction. I'm like 'Hang on! I'm adorable back in L.A.!' There's also the idea that you're infinitely more intelligent and educated, like 'You sound so intelligent.' And I honestly never dismiss that rumor. I just go, 'No, no, no…Well, kind of. I am a lot cleverer than all of you.'"
Have The Stars Ever Had Their Own "Bad Teacher" Experience?
Having just signed to play the snarky police detective Deena Pilgrim in FX's TV series adaptation of Brain Michael Bendis' superhero crime noir "Powers," Punch says she'd rather keep zeroing in on quirkier characters that she can really make sing than grab standard glamour girl roles. "I was always the witch in the plays, or the ugly sister in 'Cinderella' – always!" she explains. "I much prefer those parts. As an actress it gets hard, and funny doesn't get old."