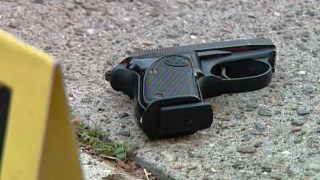 Harry Jaffe, a longtime chronicler of the people and politics of Washington, D.C., writes a column for NBC Washington's First Read DMV blog.
The chances that a kid under the age of 18 will stick a gun in your face and ask for your wallet, cell phone, bike or another valuable is skyrocketing in the nation's capital.
Ask the guy who was relieved of his cell phone and beat up Halloween night by six juveniles on Pennsylvania Avenue's West End, according to police.
For the past few months my friends in the police department have talked to me about an alarming increase in violent crime by kids. They say they have arrested teenagers for bashing a robbery victim over the head with a brick, for grabbing a bike on the Metropolitan Branch Trail, for shooting up houses, just for fun.
"Off the hook," says a retired cop who's in the security business.
But cops can exaggerate. So I dug for data. Turns out they are right.
According to the D.C. Office of Attorney General, the number of juveniles arrested for violent crimes has gone up 35 percent in the past year, from 110 in 2015 to 149 in the fiscal year that ended Sept. 30.
"Armed robberies are up in a big way," says Attorney General Karl Racine, "and it's creating havoc."
Police arrested 2,979 juveniles in 2014, and 3,141 last year. The pace for 2016 is on course to outstrip those numbers. But most of those arrests were for nonviolent crimes. Racine is talking about kids charged with armed robbery and related offenses, such as car jacking.
Racine says police, his office and federal prosecutors are "focused on prosecuting these cases." But when I peered into the process and checked individual cases, I discovered a system that's at once porous, somewhat arbitrary and weighted toward federal control.
For porous I present the case of Demetri Goldsmith. On May 29 he was talking to a 16-year-old girl at the Anacostia Metro station. The chat didn't go well. He shot her in the leg. Turns out cops had arrested Goldsmith for robbery a year before, to which he pleaded guilty and was sentenced to 24 months in prison.
The judge suspended the sentence. Free on the street, he shot the girl.
For arbitrary I found how juveniles get hauled into federal court, which is not necessarily a bad thing.
Under D.C. law, teens arrested in the District under the age of 18 come under the jurisdiction of the Attorney General. They are prosecuted in juvenile court, a secret system that protects their identity. The most serious punishment is a stay in the custody of the Department of Youth Rehabilitation Services (DYRS), short for a reform school.
Unless a young person has committed a violent crime. Under Title 16 of the D.C. code, federal prosecutors can pluck anyone under the age of 18 from the juvenile system and prosecute them as an adult.
Every morning Tamar Meekins, deputy attorney general for public safety, gets a list of juveniles arrested the day before. Most come under the AG. But federal prosecutors with the U.S. Attorney for the District of Columbia grab the most violent.
"They make that determination," she says. "We don't really have any input into those decisions."
But how?
"Decisions are made on a case-by-case basis and take into consideration factors such as the severity of the offense," spokesman William Miller says, "whether a firearm was used in the crime, and the suspect's criminal history, including prior juvenile adjudications."
By whom?
"Our office decides," Miller says, "typically, top supervisors in our superior Court division."
Karl Racine has a problem with that process, because it excludes the AG, who's elected by District residents.
"That's where we would like to have a voice," he says.
So far U.S. Attorney Channing Phillips has been willing to entertain discussing the matter, Racine says, but that's it. When it comes to keeping our streets safe from violent teenagers, the feds are running the show.
This bifurcated system is fraught with flaws that contribute to the sense that our streets are unsafe.
For one, the attorney general lacks serious prosecutorial power over juveniles. The worst punishment meted out in juvenile court is a stay in a DYRS facility or group home. Last year three quarters of the juveniles sent to DYRS had committed violent offenses. Too many walk away.
Second, the feds can pick and choose who they want to prosecute, with the potential for jail time. This week they announced eight-year sentences for two kids – one 16, the other 17 – for a series of four armed robberies. But what if the feds hadn't taken the case? Those two would likely be out on the street.
Racine is right: the locally-elected attorney general should at least weigh in on the decisions on whether to prosecute juveniles as adults. But unless and until the AG has the power to prosecute defendants in Superior Court and sentence guilty ones to jail, no question we are much safer with the feds prosecuting violent juveniles.
What should truly worry Washingtonians is this arithmetic: in 2016 police had made 2,059 juvenile arrests by the end of August. The AG reports 149 arrests for violent crimes in the past fiscal year, which covers that period of time. One would assume they were prosecuted, either in juvenile or Superior Court. What about the rest?
Racine is proud of his "diversion" programs. They are designed to identify kids headed into the criminal justice system and offering up a variety of services to keep steer them in a better direction.
"It's working," he says. Of the 700 young people who went through the program, he says 90 percent were not rearrested.
Swell, but that leaves way too many young and violent offenders walk our streets. My cop friends have it right. As Racine says, it's "causing havoc."