What to Know
One of the women who has accused Bill Cosby of sexual assault and her lawyer, Gloria Allred, met with DC's Judiciary Committee chairman.

Bills introduced in 2015 to end statute of limitations for civil and criminal sex assault cases have not had hearings.

Archdiocese of Washington spokesperson said the Catholic Church opposes lifting the limitations on civil cases, but not on criminal cases.
The sun is about to set on proposed legislation that would make it easier for victims of sexual assault to seek justice in the District of Columbia.
Current law in the District requires sex assault victims to report allegations before the statute of limitations runs out in order for prosecutors and courts to act on the allegations. For civil cases the statute of limitations is three years; for criminal cases it's up to 15 years. In cases where the victim is a minor, the statute of limitations doesn't kick in until the victim's 21st birthday.
Advocates for victims of sex assault say there shouldn't be any limits on justice. A movement to eliminate or extend statutes of limitations has gained momentum across the country. California recently became the 16th state to eliminate them, and Nevada and Colorado recently extended the limits in those states.
Top News: Community Grieves for Latest School Shooting, More
In 2015, D.C. Councilmembers Mary Cheh and David Grosso introduced separate bills that would eliminate the limits for criminal and civil sex assault cases in D.C. The bills had support of other councilmembers and were referred to the Judiciary Committee, where they have sat without hearings for going on two years. On Dec. 31, the bills will expire.
Councilmember Kenyan McDuffie, the chairman of the Judiciary Committee, decided not to move the bills for public hearings. McDuffie pointed to his committee's busy schedule as the reason the bills will die.
"I've had close to 300 pieces of legislations come through the judiciary this year," McDuffie said, pointing to several key public safety bills he successfully passed during that time.
Grosso acknowledged the judiciary is one of the council's busiest committees but said McDuffie could have held hearings.
"I still wish he could have gotten to this issue, at least held a hearing on it," Grosso said. "I was really hoping we would get it done this year."
Councilmember Cheh also wishes McDuffie had at least held a hearing.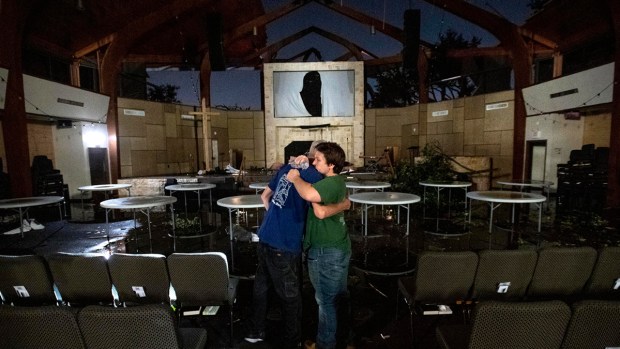 Extreme Weather Photos: Twister Touches Down on North Texas
"The reality of the council is that the chair of a committee sets the schedule for pieces of legislation and some bills languish in the process," Cheh said in written statement. "With that in mind, I will continue to press to have the bill move forward and, if necessary, will reintroduce this bill at the beginning of next year and every council session until I get it passed."
McDuffie declined to say whether he supported either of the bills before his committee, saying, "As a former prosecutor, I am keenly aware of the suffering that victims of sex abuse have to endure."
McDuffie added he does have concerns about the legislation.
"We need to make sure we protect the rights of victims as well as protecting rights of any party involved in criminal proceedings," he said.
Cosby Accuser and Attorney Gloria Allred Meet With DC Councilmember
Charlotte Fox has been trying to get McDuffie to act on the bills since they were introduced in 2015.
"I've been trying for more than a year to get a meeting with the councilmember to even talk about it," Fox says.
Fox is one of the many women who have come forward to accuse Bill Cosby of sexual assault. She and her attorney, Gloria Allred, finally got to meet with McDuffie Thursday.
"It's bad enough the door to justice is closed in face of victims now," Allred said, "but also bad there is not even a hearing where we can make our arguments."
The two women emerged from McDuffie's office encouraged he took the time to listen to them but disappointed the legislation will have to start over next year.
"Its not about me, its about victims who have rights," Fox said outside McDuffie's office. "They should be heard. This bill should come out of committee and become law."
Catholic Church Opposed to Lifting Limitations on Civil Cases
Both Allred and Grosso pointed to the Catholic Church as one of the opponents of the legislation.
Ed McFadden, a spokesperson for the Archdiocese of Washington, said the church is opposed to lifting the limitations on civil cases, but not on criminal cases.
"We do not support legislation that does nothing to protect children and which sets one set of rules for public institutions and a different set of rules for private institutions," McFadden said of Grosso's bill, which eliminates the limitations on civil cases.
"The church is afraid that what's going to happen here is they're going to be held accountable for the actions of the priests they kept hidden for so long," Grosso said.
As for the limitations on criminal cases, the church is in favor of that.
"The Archdiocese of Washington has had an effective child protection policy in place since 1986 and a strong record in protecting young people. Over the years the Archdiocese has supported efforts to eliminate the statute of limitations for criminal prosecution of perpetrators of sexual abuse in the District of Columbia," McFadden wrote in a statement.
Allred, who has lobbied for changes to the SOLs in states across the country, said the Catholic Church has opposed similar legislation in other states.
"The point is, we are here about victims, not institutions that want to protect themselves, not about predators who want to protect themselves. We are here about victims and it should never be too late for justice for victims," Allred said.
McDuffie said he had no communciations with the church on this issue and pointed out he voted in favor of the Death With Dignity Act which the church opposed.
"My religion doesn't get in the way of the work I do down here," McDuffie said.
Both Grosso and Cheh said they will reintroduce their bills next year. It's unclear who will chair the Judiciary Committee next year. Asked if he will support the legislation in 2017, McDuffie said, "We'll see what happens in the next council session."
As for Fox, she has faith the council will eventually pass both bills. She said that same faith has allowed her to forgive Cosby. She said she even likes the Cosby mural on the side of Ben's Chili Bowl.
"It doesn't bother me," she said. "I can separate the actor from Cosby the man. A picture on the wall doesn't mean anything to me. I love it. I love Ben's Chili bowl. That doesn't matter to me."
"What's a picture on a wall. I don't care about that," Fox said. "Absolutely, absolutely of course I forgive him, absolutely, but we still want justice. We still want victims to have their day in court."