Shomari Stone, News4 Reporter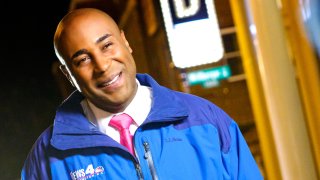 Shomari Stone is a general assignment reporter for News4, specializing in breaking news coverage for News4 at 11.
Shomari joined News4 on Aug. 22, 2011. During his first week, he covered the 5.8 magnitude earthquake and Hurricane Irene. One year later, he brought viewers an exclusive interview with Trayvon Martin's parents while they were in Washington. In 2013, Stone reported from Boston after the bombing at the Boston Marathon.
He has reported on the social unrest and Black Lives Matter protests outside the White House at Lafayette Square park and covered the fall of the Albert Pike Statue on live television. He also reported on the deaths of Supreme Court Justice Ruth Bader Ginsburg, Congressman John Lewis and former President George H.W. Bush from the U.S. Capitol.
Although he graduated from high school in Washington, D.C., Stone has lived in cities all across the United States. He has worked at KOMO-TV in Seattle, CBS 4 in Miami, and WINK TV in Fort Myers, FL.
Shomari was part of the News4 teams that earned Emmy Awards for Washington Capitals championship coverage and Washington Nationals championship parade coverage. He also earned five Emmy nominations, and he was part of the CBS4 team of journalists recognized with an Edward R. Murrow Award for live coverage of the federal air marshals shooting at Miami International Airport in 2006.
He has covered a wide range of stories including the inauguration of Barack Obama, immigration reform, Hurricane Katrina's, Rita's and Wilma's passage through Florida and the resulting devastation to the region, Republican Presidential contender John McCain's appearance in Miami, the local impact of the Cuban Dictator Fidel Castro's relinquished power, the local impact of the fall of Haitian President Jean Bertrand Aristide, the uproar surrounding the death of Anna Nicole Smith, and the Bush family's first "presidential" vacation on Gasparilla Island in 2000.
Shomari graduated from St. John's College High School in Washington and the University of Michigan, where he received six Journalism Awards. Shomari has been active in his community throughout his career and enjoys playing basketball, tennis, and Scrabble. He also enjoys spending time with his family and coaches youth football, baseball and basketball.