Jodie Fleischer, News4 I-Team Reporter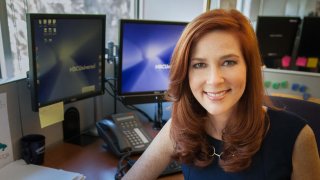 Jodie Fleischer is an investigative reporter with the News4 I-Team.
Fleischer has been recognized for her reporting by many prestigious organizations. In 2016, she was honored with an award for Innovation in Investigative Reporting by the national organization of Investigative Reporters and Editors after a year-long series on fatal police shootings in Georgia. Her reporting, in partnership with the investigative team at The Atlanta Journal-Constitution, helped change Georgia law to limit the special treatment officers previously received in those cases.
In 2015, Fleischer was honored by the FBI Director with a Community Leadership Award for a series of investigative reports which exposed a legal loophole that encouraged widespread criminal activity by sovereign citizens who used fake deeds to steal foreclosed homes. The resulting law change was the culmination of more than four years of reporting, that was also recognized with a 2012 Alfred I. du Pont Award from Columbia University, one of broadcasting's highest honors, and a national Emmy nomination in 2016.
Fleischer has been honored with five regional Edward R. Murrow Awards for investigative reports on a wide range of topics, including a year-long series of stories culminating with the state shutting down a fraudulent drug rehab facility run by the Church of Scientology. Her reporting also exposed alleged kickbacks, cronyism and ethical breaches in a local county, and led to resignations, a lucrative development deal canceled, ethics reprimands, and several criminal indictments.
Fleischer has been awarded 13 Southeast Regional Emmys including On-Camera Talent for Investigative Reporting and Specialty Reporting. Her work uncovered hundreds of outdated guardrail ends still on roadways throughout Georgia, systemic errors in a county's property values, and faulty breathing equipment used by firefighters.
Before coming to D.C., Fleischer worked at WSB-TV in Atlanta, WFTV in Orlando and WSPA and WLTX in South Carolina. She has been honored by the Associated Press Broadcasters in all three states for breaking news coverage, education coverage and investigative reporting.
Fleischer is a native Floridian and graduated from the University of Florida with a degree in telecommunication and a minor in criminal justice. When she's not working, she enjoys boating, wake-boarding, hiking, photography and Gator football.