Jane Watrel's Award-Winning Chili Recipe
Jane Watrel Shares Chili Recipe on Nonstop Foodies DC
Thursday, Feb 16, 2012 | Updated 12:52 PM EDT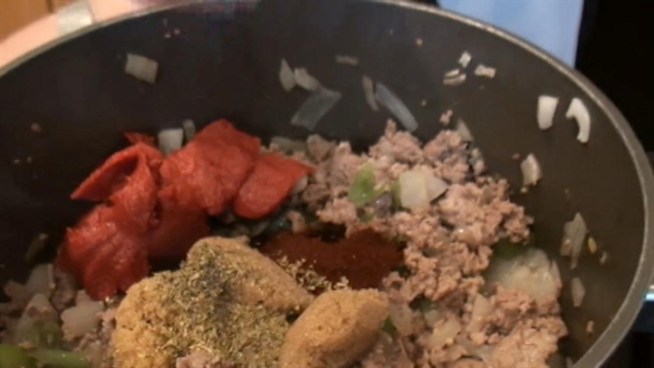 Jane Watrel
Jane Watrel shows us how to make her healthy, hearty, award-winning chili recipe.
Jane's All-American Chili from Cooking Light magazine
6 ounces hot turkey Italian sausage
2 cups chopped onions
1 cup chopped green bell pepper
8 garlic cloves, minced
1 pound ground sirloin
1 jalapeno pepper chopped (optional)
2 tablespoons chili powder
2 tablespoons brown sugar
1 tablespoon ground cumin
3 tablespoons tomato paste
1 teaspoon dried oregano
1/2 teaspoon freshly ground black pepper
1/4 teaspoon salt
2 bay leaves
1 1/4 cups Merlot or other fruity red wine
2 (28 oz) cans diced tomatoes (original recipe calls for whole tomatoes--undrained and coarsely chopped)*
2 (15 oz) cans kidney beans, drained
1/2 cup shredded reduced-fat sharp cheddar cheese

1. Heat a large Dutch oven over medium-high heat. Remove casings from sausage. Add sausage, onion and next 4 ingredients (onion through jalapeno) to pan, cook 8 minutes or until sausage and beef are browned, stirring to crumble.
2. Add chili powder and next 7 ingredients (chili powder through bay leaves) and cook for 1 minute, stirring constantly. Stir in wine, tomatoes, and kidney beans, bring to a boil. Cover, reduce heat and simmer for 1 hour, stirring occasionally.
3. Uncover and cook for 30 additional minutes, stirring occasionally. Discard the bay leaves. Sprinkle each serving with cheddar cheese.
Yield: 8 servings.
Note: Like most chili, this version tastes even better the second day.