"Jesus" Earning High Praise from Nationals
Players in awe of Strasburg's "stuff"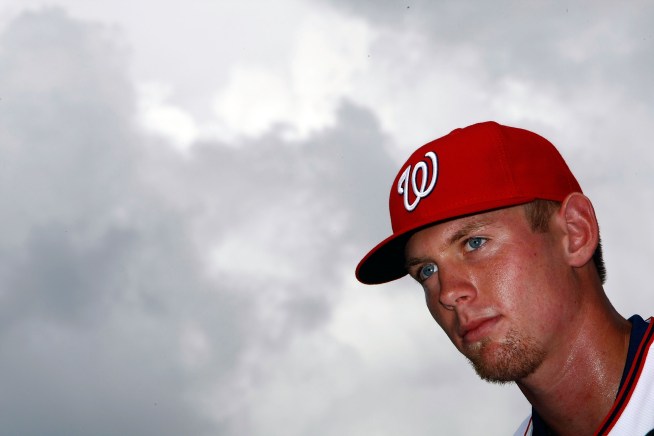 Getty Images
WASHINGTON - AUGUST 21: Stephen Strasburg, the overall first pick in the 2009 Major League Baseball draft, takes part in a press conference where he was introduced at Nationals Park August 21, 2009 in Washington, DC. Strasburg, a right handed pitcher from San Diego State University, signed with the Nationals earlier this week wth a record contract for an amateur player. (Photo by Win McNamee/Getty Images)
He cannot walk on water, but he can sure throw a baseball.
Stephen Strasburg has the hopes of a franchise resting squarely on his shoulders, and he has already impressed his veteran teammates.
Early in spring training, some of them have dubbed him "Jesus."
"Cause what's the first thing you say when you see him pitch? Jeee-sus!" he told the paper.
Strasburg is only 21 years old, and another teammate is comparing him to another young phenom.
"I said, 'You're basically LeBron,'" pitcher
Drew Storen
told the Post.
"He just doesn't realize it. He's a low-key guy. He enjoys pitching, but he doesn't understand the attention. But people have never seen this talent."
Despite his impressive spring showing, it appears Strasburg will not be with the big league club at the start of the season.
Manager Jim Riggleman
said Strasburg is not competing for a spot in the rotation, and hinted he would start the year in the minors.
The Nationals chose Strasburg with the top overall pick in last year's draft. He signed a record deal that will pay him more than $15 million.