It's Time To Buy for Nats Fans
Take me out to the ballgame. No really, take me. Tickets go on sale today.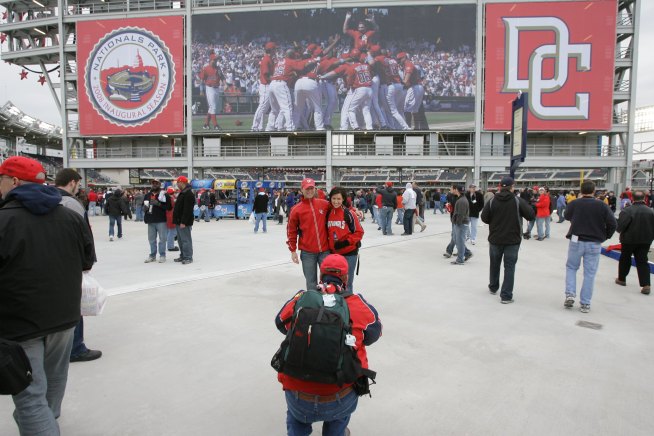 Getty Images
WASHINGTON, DC: Fans walk around the outfield concourse before the game between the Atlanta Braves and Washington Nationals on Opening Day, March 30, 2008, at Nationals Park in Washington, D.C.
Baseball is the perfect cure for the winter blues. So forget about the fact that there is still snow on the ground, and plan a trip to the ballpark. Hey, technically the team is tied for first place right?
The Nationals started selling individual game tickets Tuesday at 10 a.m. The season kicks off on April 5. The team begins the season against the defending
National League
champions, the
Philadelphia Phillies
. They are likely going to face the new ace of the Phillies,
Roy Halladay
.
The big question is when the Nationals' future ace will make his pro debut. The team selected hard-throwing pitcher
Stephen Strasburg
with the top overall pick, and he's already impressing teammates at spring training. Strasburg is almost certain to start the year in the minor leagues, but he will get the call at some point. So you've got 81 chances of picking the right game!
Some of the other highlights on this year's schedule include a visit from the Dodgers the weekend of April 23rd. May 9 is Mother's Day, so take your mom to go see the
Nationals
take on the Marlins.
The Orioles make the short trip down I-95 for a three-game series starting on Friday, May 21. On July 4, forego the barbecue and watch the Nats go red, white and blue on the New York Mets.
If you think this is the year the Nationals will be fighting for the playoffs, then buy up October tickets now. The team finishes up October with nine straight home games against Houston, Atlanta and Philadelphia.
If none of those interest you, then check out all the
promotions
. T-shirts, bobbleheads
and
beer cups?! There's something for everyone.