Asiana Airlines Won't Sue San Francisco TV Station Over Fake Pilot Names
The airline — whose flight 214 crashed this month at the San Francisco airport, killing three — had said Monday it did intend to sue.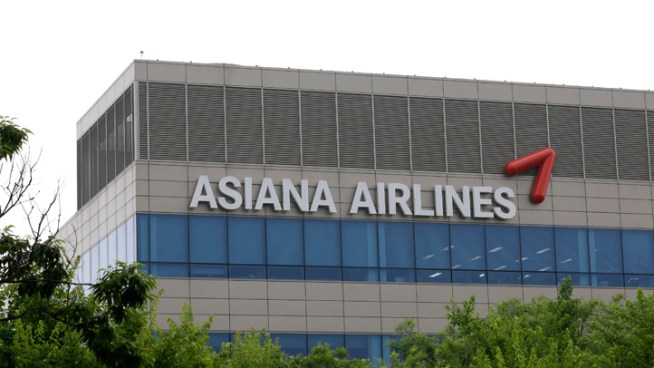 AP
Asiana Airlines' logo is seen at its head office in Seoul, South Korea, Sunday, July 7, 2013. The airline won't sue San Francisco TV station KTVU over the fake racist pilot names its anchor read on the air last week, a spokeswoman said Wednesday.
Asiana Airlines has decided not to sue a Bay Area TV station that aired bogus and racially offensive names for four pilots on its plane that crashed at the San Francisco airport earlier this month, an airline spokeswoman told CNBC on Wednesday.
"Asiana Airlines has decided to not pursue legal action as a result of a public apology by KTVU for the report," Hyomin Lee told CNBC.
She said the airline instead would remain "dedicated to caring for the passengers and family members of Asiana flight 214 and supporting the investigation into the cause of the accident."
That decision came after Asiana had said Monday that it was going to sue KTVU for defamation over what it called its "racially discriminatory report" that disparaged Asians.
KTVU came under fire on Friday after an anchor read the fake, racist pilot names — whose origins were unclear — on air, accompanied by a graphic listing them. Video of the erroneous report on the fake names immediately went viral online.
KTVU has apologized for the report. So has the National Transportation Safety Board, which said a summer intern had erroneously confirmed the names in response to a media inquiry.
It remains unclear where the names came from originally.