Prez's Motorcade Accident Leads to Staredown
The Eye featuring police officer and biker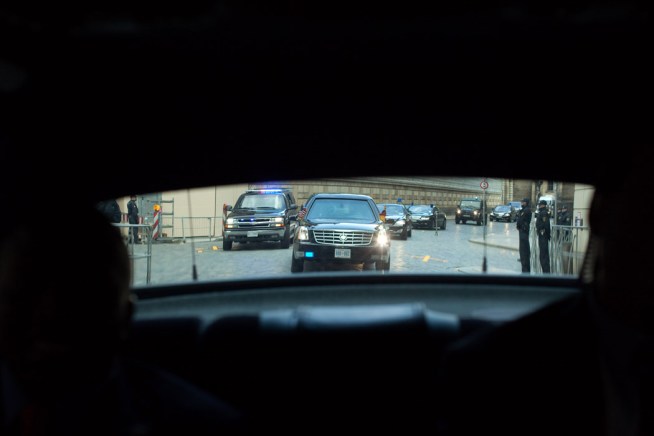 The White House
President Barack Obama's motorcade enroute to the Church of Our Lady (Frauenkirche) in Dresden, Germany, June 5, 2009. (Official White House photo by Pete Souza) This official White House photograph is being made available for publication by news organizations and/or for personal use printing by the subject(s) of the photograph. The photograph may not be manipulated in any way or used in materials, advertisements, products, or promotions that in any way suggest approval or endorsement of the President, the First Family, or the White House.
President Obama's motorcade was involved in a minor accident Saturday. Luckily there were no injuries, no charges, and no mug shot -- but a case of "mean mugging" did ensue.
Obama was headed to his daughter Malia's soccer game. The last police car in the motorcade had just turned the corner when a motorbike slid into the car.
Typically when a normal accident happens, drivers exchange insurance and contact info. Well, the White House press report says the police driver and biker exchanged dirty looks. But that was the extent of the action; the driver drove off.
Earlier in the week, a D.C. Guard vehicle assigned to security of motorcades in town for the Nuclear Summit was involved in an incident that left a 68-year-old bicyclist dead.