Students Recite Dr. King's Famed Speech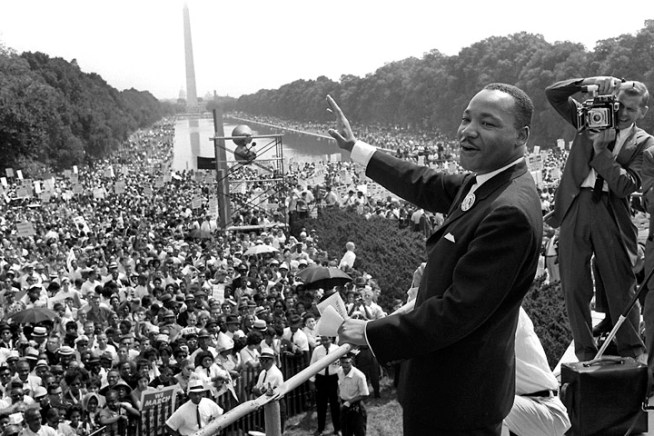 Getty Images
Dr. Martin Luther King Jr. waves to supporters from the steps of the Lincoln Memorial 28 August 1963 on the Mall in Washington DC during the "March on Washington" where he gave the famous "I Have a Dream" speech, which is credited with mobilizing supporters of desegregation and prompted the 1964 Civil Rights Act.
Martin Luther King Jr. had the dream, but students at Watkins Elementary School in D.C. are determined to carry it out. The school chose to re-construct Dr. King's famous speech in the very spot he first delivered it.
One by one, Watkins Elementary fourth graders took the microphone and recited their share of King's speech. Their podium stood on the steps on the Lincoln Memorial, just like King's did in 1963.
There was nothing perfunctory about Thursday's recitation; the kids delivered it with passion and understanding.
Kellin Jefferies said she knows why King's message is so important today.
"It doesn't really matter what the color of our skin is, it's the content of our character," Jeffries said.
She said it amazes her how hard King fought for future generations.
"He was a brave and nice man because he didn't even know any of us," said Jeffries.
Each student played a role, and the audience chanted along with those famous final words: "Free at last, free at last, thank God almighty, we are free at last!"
The words may be close to 50 years old, but the children interpreting them had no problem grasping the message.
Listen to the complete story at wamu.org
Copyright 2011 WAMU 88.5 - American University Radio. All Rights Reserved.