Prince George's County Hosts AIDS Awareness Event
Monday, Dec 2, 2013 | Updated 9:00 AM EDT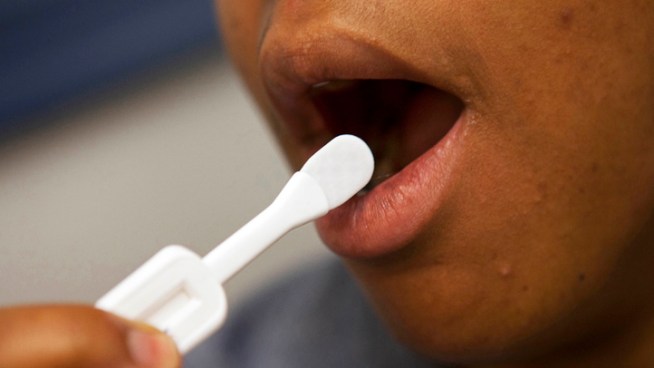 AP
This file photo shows a patient using an oral test for HIV, inside the HIV Testing Room at the Penn Branch of the District of Columbia Department of Motor Vehicles. All Americans ages 15 to 64 should get an HIV test at least once, not just people considered at high risk for the virus, a panel of government advisers proposed Monday. The draft guidelines from the U.S. Preventive Services Task Force are the latest recommendations that aim to make HIV screening simply a routine part of a check-up, something a doctor can order with as little fuss as a cholesterol test or a mammogram.
Health officials in Prince George's County are sponsoring an event designed to promote AIDS awareness.
The event Monday will be held from 11 a.m. to 1 p.m. at the county community college in Largo.
It'll include free HIV testing, education on HIV/AIDS prevention and a special performance from actor Tray Chaney, who appeared on HBO series "The Wire.''
The event is in honor of World AIDS Day, which was commemorated on Sunday.
County officials say the county ranks second in Maryland for cases of HIV and sexually transmitted diseases.