Overturned Truck Spills Scrap in Gaithersburg
Accident happened before noon
Thursday, Feb 23, 2012 | Updated 5:26 PM EDT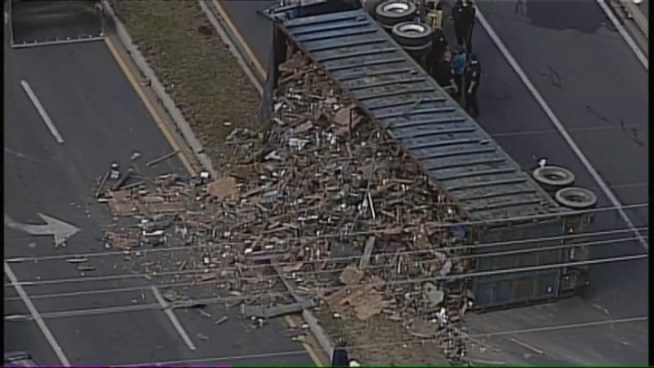 A tractor trailer overturned on Quince Orchard Road in Gaithersburg around noon on Thursday. The vehicle spilled its load of scrap metal on the road, no injuries were reported. News4's Chopper was over the scene.
A tractor trailer truck overturned in Montgomery County Thursday, spilling a large amount of debris on the roadway.
The accident happened on Quince Orchard Road near Clopper Road in Gaithersburg, Md., around noon.
Montgomery County police said the tractor trailer was hauling scrap metal, which scattered on the road when it overturned.
The truck driver suffered minor injuries, and was transported by paramedics.
Several lanes of Quince Orchard Road were closed for several hours while the truck and trash were removed.
The cause of the crash remains under investigation.