Dollar Bills Dumped in Senate Building, 3 Arrested
Anti-GMO group was protesting Monsanto, a biotechnology corporation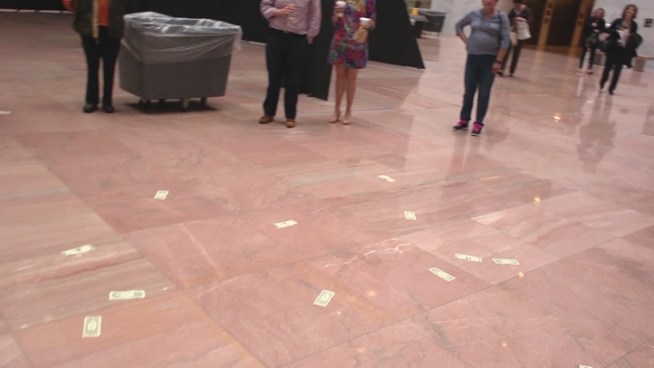 Chris Belcher
Anti-GMO activists protested lobbying and campaign donations by Monsato Co by dropping dozens of dollar bills into a Senate building's atrium.
Dozens of U.S. dollar bills were thrown into the atrium at the Hart Senate Office Building Thursday, and three people have been arrested.
The activists were protesting against lobbying during the shutdown, specifically against biotechnology company Monsanto. The activists say Monsanto spends hundreds of thousands of dollars in campaign donations and millions of dollars in lobbying to support genetically engineered food.
The group dumped dozens of dollar bills out of briefcases onto the Senate building's atrium floor around 1 p.m. Thursday. Capitol Police say Elisheva Shalon, Elizabeth Croydon and Adam Eidinger were arrested. Police say they do not know exactly how much money the activists threw out.