FedEx Driver Carjacked at Gunpoint in D.C.
Thursday, Sep 19, 2013 | Updated 4:21 PM EDT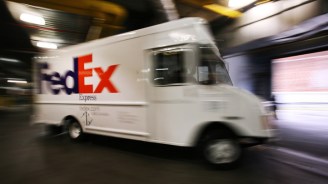 AP
** FILE ** A FedEx truck leaves a New York distribution facility to make deliveries in this Dec. 13, 2007 file photo. FedEx Corp. on Thursday, Dec. 20, 2007 reported its second-quarter profit fell 6 percent from a year ago, largely due to high fuel costs and a sluggish U.S. economy. (AP Photo/Mark Lennihan, file)
A FedEx delivery truck driver was carjacked in Southeast D.C. Thursday afternoon at gunpoint, according to police.
The incident was reported just before 2 p.m. in the 2400 block of T Street SE. The victim said his attacker was wearing a ski mask, and also got away with his cell phone. The van was found a couple blocks away a short time later, police said.
The suspect remains on the loose.