"D.C. Madam" Lawyer Running for President
Montgomery Sibley represented Debora Jeane Palfrey in 2008.
Saturday, Jan 7, 2012 | Updated 10:01 AM EDT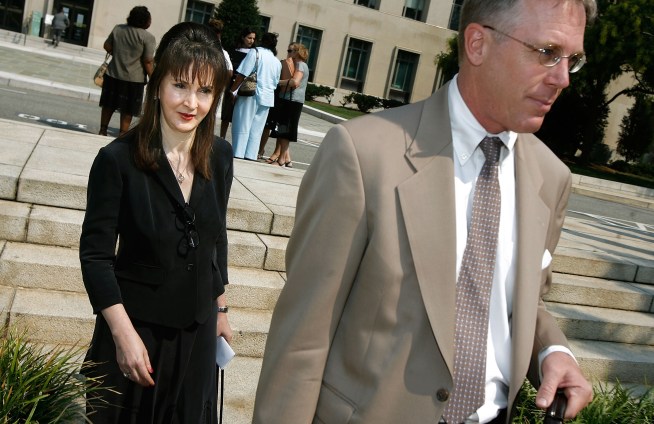 Getty Images
WASHINGTON: "DC Madam" Deborah Jeane Palfrey (L) and her laywer Montgomery Blair Sibley leave the Prettyman U.S. Courthouse after attending several motion hearings in her trial Sept. 7, 2007, in Washington, D.C.
President Obama has a new and unusual opponent for the 2012 election.
Montgomery Sibley, the attorney for the late "D.C. Madam," announced he is running for the White House.
Sibley represented Deborah Jeane Palfrey in 2008, when she was indicted for running an escort service, which counted among its customers Louisiana Senator David Vitter. Palfrey was found guilty of money laundering, using the mail for illegal purposes, and racketeering before she was found dead of an apparent suicide in May 2008. She never served any time in prison.
In addition to announcing his candidacy, Sibley is also filing a civil suit against the President, alleging he's not a natural born citizen of the United States.
He is currently prohibited from practicing law after being sanctioned by 13 federal courts, including the Supreme Court.
Sibley's platform includes a call for D.C. voting rights, and the expansion of Congress to 10,000 representatives.
Sibley will also not accept contributions for his campaign. He is instead asking supporters to buy his D.C. Madam book "Why Just Her."