Coast Guard Petty Officer to Receive Medal for Heroism in Va. Beach Jet Crash
Rushed to the scene after a Navy jet crashed in Virginia Beach last spring.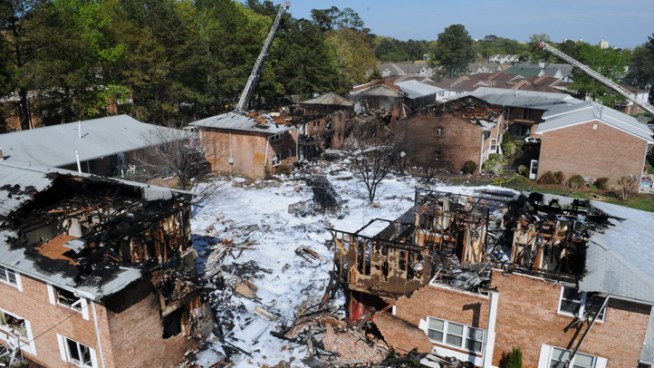 Getty Images
In this handout provided by the U.S. Navy, firefighting foam covers the scene of a crash of an F/A-18D Hornet assigned to Strike Fighter Squadron (VFA) 106, April 6, 2012 in Virginia Beach, Va. Two pilots ejected safely moments before their jet crashed into an apartment complex about half a mile away from Naval Air Station Oceana, where the squadron is stationed. (Photo by Antonio P. Turretto Ramos/U.S. Navy via Getty Images)
"I saw the fire and explosion, and I knew I had to help."
Coast Guard Petty Officer Nicholas Beane told the Coast Guard's official blog that he had no choice but to spring into action after a Navy jet crashed into an apartment complex in Virginia Beach -- only 200 feet away from where he was standing.
Beane, who was off-duty, rushed to make sure neighbors were safe before heading to the scene of the crash. The Coast Guard says that once there, Beane and a local resident cut a trapped pilot loose from his parachute and moved him to safety, away from a series of explosions as fire spread.
Seven people were injured in the April 6 crash, and Beane was treated for smoke inhalation.
Ten months later, he will receive official recognition for his effort.
On Tuesday in Chesapeake, he'll be awarded the Meritorious Service Medal, which is the non-combat equivalent of the Bronze Star. The honor is is given to members of the military for acts of heroism.
Beane also received recognition for his actions in November, when he was an honoree at the annual USO Gala in Washington.
PREVIOUS COVERAGE: