After Crash with Truck on Bay Bridge, Car Veers Into Water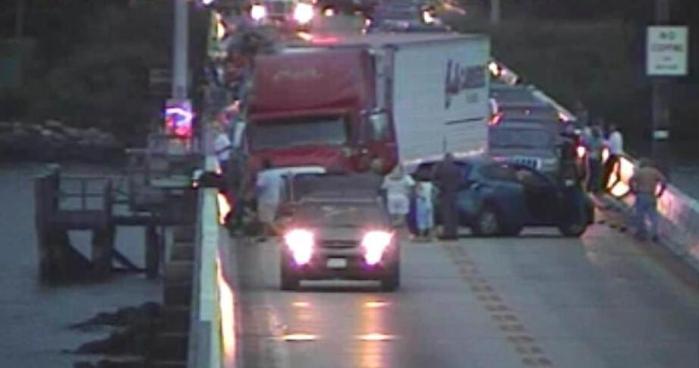 Mark Segraves
A woman sustained non-life threatening injuries when a tractor trailer rear-ended her on the Bay Bridge. Her car dove into the water, but she was able to swim to a jetty. News4's Mark Segraves has the latest details.
A woman sustained non-life threatening injuries after the car she was driving was struck by a tractor trailer, sending her and her vehicle over the Bay Bridge Friday evening.
The accident closed all eastbound lanes of the bridge in Anne Arundel County, Md. for some time, and crews continue to investigate the incident.
The westbound lanes of the bridge were re-routed to accomodate both directions of traffic.
The 22-year-old woman, whose car dropped into approximately 8 feet of water, swam to a jetty after the accident. She is expected to be okay.
Engineers stayed at the crash scene through the evening to inspect the bridge structure for potential damage.
Major delays remained in both directions.