Dozens of Demonstrators Arrested in Downtown D.C.
Friday, Jul 26, 2013 | Updated 6:17 PM EDT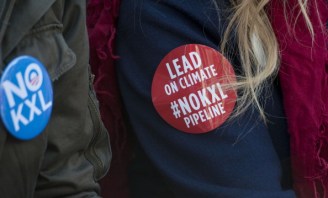 Getty Images
WASHINGTON, DC - FEBRUARY 13: Daryl Hannah wears a sticker as she protests against Keystone XL Pipeline at Lafayette Park on February 13, 2013 in Washington, DC. (Photo by Leigh Vogel/Getty Images)
Officials confirm 55 people demonstrating the Keystone XL Pipeline were arrested after refusing to leave a building in Downtown D.C.
The group rushed an office building lobby in the 1700 block of Eye Street NW. Police report the group was asked several times to leave or they would be arrested.
Metro Police arrested 55 demonstrators in total.
According to EcoWatch.com, the building housed Environmental Resource Management, the oil contractor in charge of writing a review for the pipeline. EcoWatch.com also reports the group consisted of Walk for Grandkids activists.