Hitting Early, Swine Flu Claims 11 More Kids in U.S.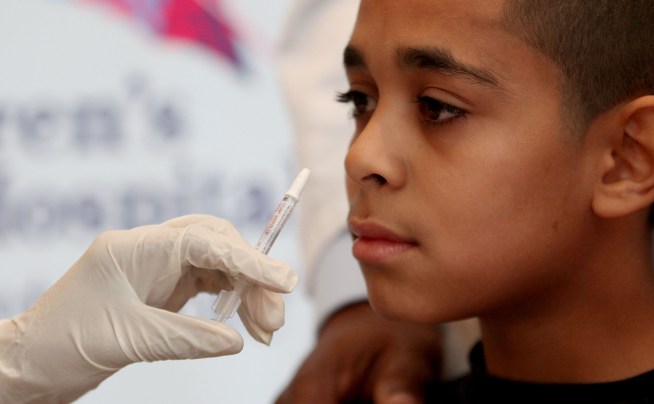 Getty Images
NEW YORK - OCTOBER 06: A nasal spray dose of the H1N1/swine flu vaccine is administered to Brandon Marti, 13, at Montefiore Medical Center October 6, 2009 in the Bronx borough of New York City. About 68,000 doses of the vaccine have arrived in the city thus far and around 560 were administered yesterday. Some of the first doses are being administered to health care workers and children in a massive citywide vaccination program. (Photo by Mario Tama/Getty Images)
WASHINGTON (AP) - A top federal health official is calling the latest numbers on the spread of H1N1 flu "very sobering."
The Centers for Disease Control and Prevention say the new swine flu strain is striking the U.S. early and hard. They say this virus is different from regular winter flu because it strikes the young far more than the old.
Since September, the deaths of 43 children have been reported -- including 11 during the past week.
The CDC's Dr. Anne Schuchat says that's a startling number because in some past winters, the CDC has counted 40 or 50 child deaths for the entire flu season. And no one knows how long this swine flu outbreak will last.
The World Health Organization also warns that -- in contrast to regular winter flu -- swine flu can sometimes cause a very severe viral pneumonia in otherwise healthy young adults.
Meanwhile, the federal government warns that swine-flu vaccine supplies will become more scarce than expected through October.
Manufacturer delays mean flu-shot clinics in some parts of the country may have to be postponed.
Federal health officials say, however, that enough vaccine will eventually be available for everyone who wants it.
(Copyright 2009 by The Associated Press. All Rights Reserved.)