Republican Bob McDonnell has defeated Democrat Creigh Deeds to become Virginia's next governor. Check out all of the election results below for Virginia and Maryland.
Creigh Deeds

(D)
41%
815,461
Bob McDonnell

(R)
59%
1,159,164
Bill Bolling

(R)
56%
1,102,340
Jody Wagner

(D)
44%
850,813
Ken Cuccinelli

(R)
58%
1,118,785
Steve Shannon

(D)
42%
825,066
Find Your Race
Looking for a specific race? Search by locality name, candidate, office, proposition number or description.
You Might Like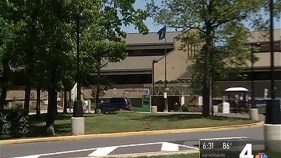 A high school coach who was seriously hurt in a bike crash got a big surprise Friday as the new school year begins -- hundreds of students and staff members leaped to their feet at a pep rally held in his...
Drivers should expect more traffic congestion as the school year begins, Montgomery County police say. And officials are warning drivers to stop for school buses or risk getting tickets for as much as $570 each....
Hillary Clinton vigorously defended her family's foundation against Donald Trump's criticism on Friday and declared she's confident there will be no major further accusations involving the foundation, her emails...