Republican Bob McDonnell has defeated Democrat Creigh Deeds to become Virginia's next governor. Check out all of the election results below for Virginia and Maryland.
Creigh Deeds

(D)
41%
815,461
Bob McDonnell

(R)
59%
1,159,164
Bill Bolling

(R)
56%
1,102,340
Jody Wagner

(D)
44%
850,813
Ken Cuccinelli

(R)
58%
1,118,785
Steve Shannon

(D)
42%
825,066
Find Your Race
Looking for a specific race? Search by locality name, candidate, office, proposition number or description.
You Might Like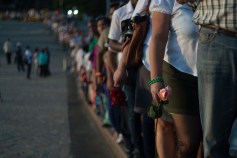 The Spotsylvania County Sheriff's Office said the suspect entered the Sunoco Station, located in the 5300 block of Jefferson Davis Highway about 1:35 a.m.
Republican Lt. Gov. Boyd Rutherford's tweet was in response to state Democratic Sen. Cheryl Kagan.
the details of Fidel Castro's final resting place have been one of the most tightly kept secrets in Cuba. That is expected to end on Sunday morning, when the revolutionary leader's ashes are interred in...