Republican Bob McDonnell has defeated Democrat Creigh Deeds to become Virginia's next governor. Check out all of the election results below for Virginia and Maryland.
Creigh Deeds

(D)
41%
815,461
Bob McDonnell

(R)
59%
1,159,164
Bill Bolling

(R)
56%
1,102,340
Jody Wagner

(D)
44%
850,813
Ken Cuccinelli

(R)
58%
1,118,785
Steve Shannon

(D)
42%
825,066
Find Your Race
Looking for a specific race? Search by locality name, candidate, office, proposition number or description.
You Might Like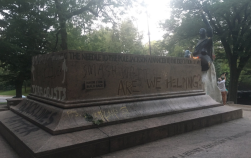 The Smithsonian Castle caught fire and has been evacuated, the D.C. fire department says.
The two CEO advisory councils to President Donald Trump came to an abrupt end Wednesday as Trump, facing mass defections after his equivocal response to white supremacist violence in Charlottesville, Virginia...
The parents of the woman who was killed in violent protests in Virginia Saturday urged people at her memorial service Wednesday to honor her life by living it as she would, lovingly and speaking out for justice....