Republican Bob McDonnell has defeated Democrat Creigh Deeds to become Virginia's next governor. Check out all of the election results below for Virginia and Maryland.
Creigh Deeds

(D)
41%
815,461
Bob McDonnell

(R)
59%
1,159,164
Bill Bolling

(R)
56%
1,102,340
Jody Wagner

(D)
44%
850,813
Ken Cuccinelli

(R)
58%
1,118,785
Steve Shannon

(D)
42%
825,066
Find Your Race
Looking for a specific race? Search by locality name, candidate, office, proposition number or description.
You Might Like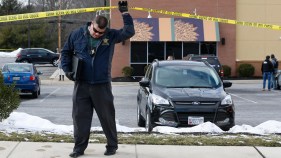 Parents and teachers raised concerns about an elementary school volunteer and youth choir director accused of recording "vile sexual acts" between children on school grounds, but the principal took no action...
"It's not a Democrat or Republican issue. It's not a polarizing issue," the frustrated father of a police officer killed by a suspected drunken driver said.
FBI agents have converged on the Oregon wildlife refuge where the last four followers of Ammon and Ryan Bundy remain holed up, the agency confirmed Wednesday night. The FBI's Portland office said it has set...