Find Your Race
Looking for a specific race? Search by locality name, candidate, office, proposition number or description.
You Might Like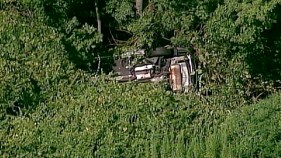 A comatose Maryland man who was stuck in Liberia during the ongoing Ebola quarantine has died, according to a webpage set up by his family. Nathaniel Dennis, 24, was visiting family in Monrovia, Liberia...
A woman was pulled from a tractor-trailer after it overturned and rolled down an embankment near the Capital Beltway in Maryland Wednesday morning.
More than 700 vehicles are stranded in flooded parking structures and nearby streets will remain closed Wednesday after a water main break that sent up to 10 million gallons of water gushing onto...