Republican Bob McDonnell has defeated Democrat Creigh Deeds to become Virginia's next governor. Check out all of the election results below for Virginia and Maryland.
Creigh Deeds

(D)
41%
815,461
Bob McDonnell

(R)
59%
1,159,164
Bill Bolling

(R)
56%
1,102,340
Jody Wagner

(D)
44%
850,813
Ken Cuccinelli

(R)
58%
1,118,785
Steve Shannon

(D)
42%
825,066
Find Your Race
Looking for a specific race? Search by locality name, candidate, office, proposition number or description.
You Might Like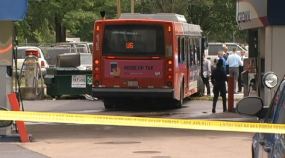 A Prince George's County Police officer was indicted on child abuse charges after prosecutors say he spanked his girlfriend's 3-year-old son, causing him to fall unconscious.
Well, the sun made an unexpected appearance after all, Tuesday, and that contributed to stronger storms than previously expected, according to Storm Team4.
Assailing each other with no letup, Republican front-runner Donald Trump and challenger Ted Cruz traded insults, charges and more as Indiana voters went to the polls in what could be an all-but-decisive...