Univ. of Md. Leads Mission to Uncommon Comet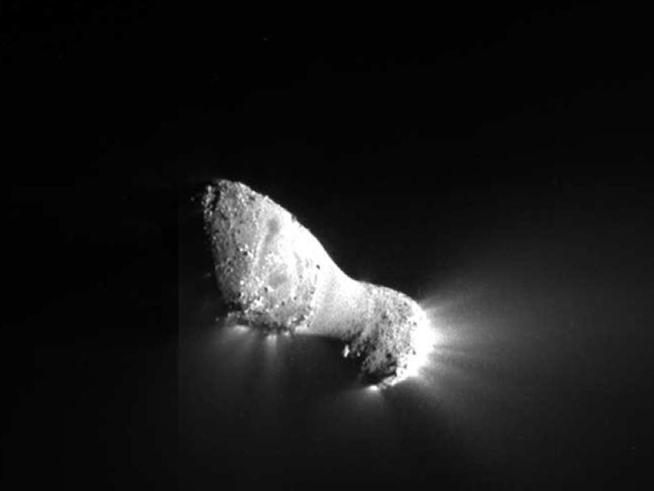 NASA/JPL-Caltech/UMD
Comet Hartley 2 can be seen in glorious detail in this image from NASA's EPOXI mission. It was taken as the spacecraft flew by around 6:59 a.m. PDT (9:59 a.m. EDT), from a distance of about 700 kilometers (435 miles). The comet's nucleus, or main body, is approximately 2 kilometers (1.2 miles) long and .4 kilometers (.25 miles) at the "neck," or most narrow portion. Jets can be seen streaming out of the nucleus.
It's definitely one of a kind: a hyperactive comet shaped like a peanut that spews water.
But, this comet could reveal to scientists -- like those at the University of Maryland -- how our solar system was formed.
Scientists have close-up pictures of Hartley 2, the first comet of its kind to be visited by a spacecraft during a flyby, as reported in this week's issue of the journal Science.
The mission that visited the comet, known as EPOXI, was started at the University of Maryland, according to Associate Director of University Communications Lee Tune.
"The mission started at University of Maryland, was pitched to NASA and has been led by the university the whole time," Tune said.
Larson described the mission as a discovery program, which was led by University of Maryland astronomer Michael A'Hearn, who partnered with NASA to build and operate a spacecraft.
According to NASA EPOXI Project Manager Tim Larson, this comet is significant because of its unique size and volatility.
"Hartley 2 is the smallest comet that we have visited to date and it is by far the most active comet that we have visited to date," Larson said.
Dry ice inside the comet is heated by the sun, which turns the material into carbon dioxide gas. The material is then re-deposited to other parts of the comet and creates its smooth waist.
Scientists are trying to figure out which parts of the comet are primordial and which are evolutionary to learn more about the origins of our solar system.