Cameron Crowe & Nancy Wilson Finalize Divorce
Friday, Dec 10, 2010 | Updated 2:00 PM EDT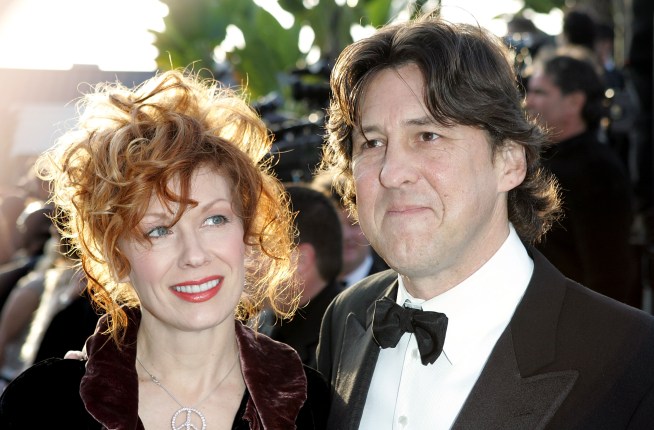 Getty Images
WEST HOLLYWOOD, CA - FEBRUARY 27: Musician Nancy Wilson and director Cameron Crowe arrive at the Vanity Fair Oscar Party at Mortons on February 27, 2005 in West Hollywood, California. (Photo by Frazer Harrison/Getty Images)
There's no more music between rocker Nancy Wilson and director Cameron Crowe — the couple have finalized their divorce.
Court records in Los Angeles show a judge signed off on the couple's breakup Wednesday.
VIEW THE PHOTOS: Celebs Who Moved To Splitsville In 2010
The Heart singer-guitarist and Academy Award-winning writer-director resolved their split without fanfare, using a retired judge as a mediator to end their 24-year marriage.
Wilson filed for divorce in September. The couple have twin 10-year-old sons.
VIEW THE PHOTOS: They Dated? Surprising Former Couples!
Crowe, director of films such as "Jerry Maguire" and "Say Anything," won an Oscar for the screenplay for "Almost Famous." Wilson worked on the soundtracks of several of Crowe's film, and had a cameo in "Fast Times at Ridgemont High," which he wrote.
The couple have been separated since June 2008.
Copyright 2010 by Associated Press. All rights reserved.This material may not be published, broadcast, rewritten or redistributed.
VIEW THE PHOTOS: Divorce! Break-Ups! Hollywood's Most Famous Former Couples
Related Content from AccessHollywood.com:
VIEW THE PHOTOS: In Memoriam: The Stars We Lost In 2010
PLAY IT NOW: David Arquette: How Is Daughter Coco Handling Divorce?
PLAY IT NOW: Access Hollywood Live: 'Real Housewife' NeNe Leakes Shares Divorce Details
More from Access: [ Divorces Tom Cruise Media ]