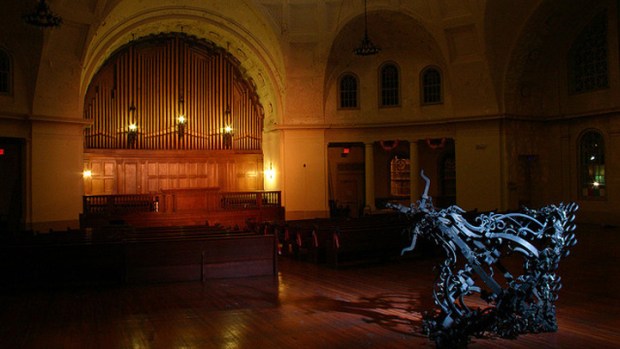 Matt Dunphy
The Rotunda (4014 Walnut St., Philadelphia, about a three-hour drive from downtown D.C.) isn't just a music venue -- it's a gathering place for everyone, creative or not, who believes that art is a catalyst for social change. (Sounds good to us!)
Formed in 1999 by dedicated and focused Penn students,
The Rotunda
(AKA The Foundation) aims to unite diverse groups of people through arts and culture experiences. Local performers, artists, activists and event organizers from within the surrounding community are also to praise for the success and popularity of the venue.
All ages are permitted and most events are free. Expect to see spoken word, live music and art, films, dance performances, and various experimental genres on a rotating basis.
The Rotunda consists of two rooms: the Main Room and the Santuary, constructed as a church in 1911. The Main Room has hosted such artists like Matisyahu, John Legend and Spoon. The Santuary (try not to be intimidated by the 1,500-pound Tiffany chandelier) hosts a lot of festivals like Philly Fringe, Philly Live Arts and Design Philadelphia.
With more than 300 events hosted each year, the Rotunda is a great alternative to the normal bar crawl scene most folks are used to. One thing though -- your night will be sans alcohol. Hey, you can't drink in a former church, right?