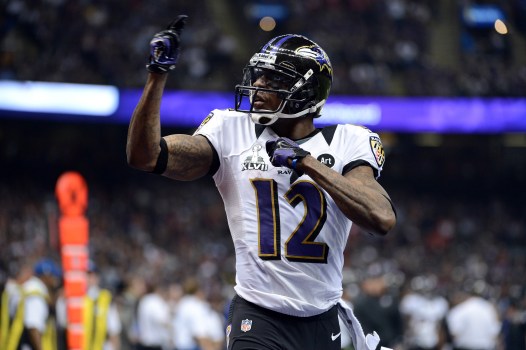 Getty Images
Monday, TMZ reported that Baltimore Ravens wide receiver Jacoby Jones was struck in the head with a bottle of champagne while out celebrating a teammate's birthday in the District. And we all had a good laugh.
The report indicated that a stripper named "Sweet Pea" was at the center of it all -- you can see Ms. Pea here -- but she broke her silence on Twitter Monday evening:
I would like to clear up the fact that I'm a waitress & the girls on the pic aren't a bunch of strippers. Jacoby & I had a verbal confrontation & that was it!!! I never hit him with a bottle & I wish ppl would stop spreading lies on the internet.

Yes, Ms. Pea. Sorry, Ms. Pea.
---
Follow Adam on Twitter @AdamVingan and e-mail your story ideas to adamvingan (at) gmail.com.