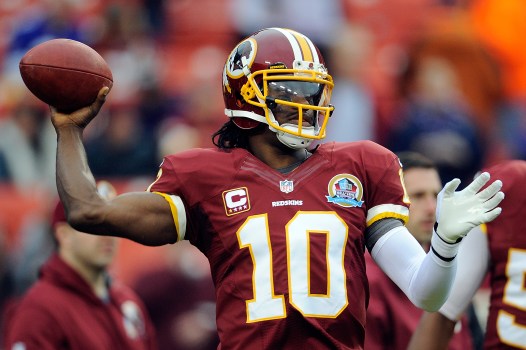 Getty Images
Robert Griffin III underwent reconstructive right knee surgery last month after crumbling to the turf during the Washington Redskins' NFC Wild Card Round loss to the Seattle Seahawks and surgeons have remained optimistic regarding his eventual return. Unlike some people...
Thursday, sources told ESPN's Adam Schefter -- who apparently knows everybody connected to football -- that the Redskins "already are encouraged enough" with Griffin's recovery and believe that he has a "legitimate chance" to start Week 1.
Not that there was any doubt, really. Griffin is a physical freak of nature, much like Vikings running back Adrian Peterson -- who returned from a torn ACL in 2012 to become the 2013 NFL MVP -- as the article points out. Of course, a lot can change between now and September, but hopefully RGIII can return as the player that captivated the District and ran away with the Offensive Rookie of the Year award.
At the very least, the NFL can start planning their national television schedule.
---
Follow Adam on Twitter @AdamVingan and e-mail your story ideas to adamvingan (at) gmail.com.