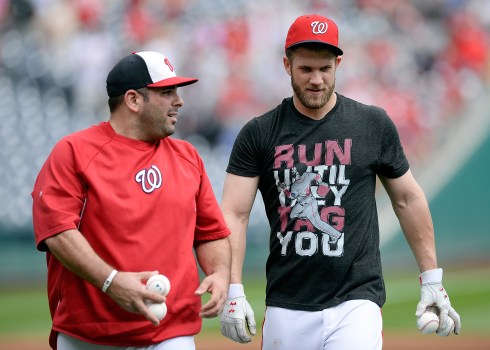 Getty Images
Sunday was "Bryce Harper Bobblehead Day" at Nationals Park, where the first 15,000 fans that entered through the Center Field Gate received a miniature No. 34 to call their own.
First pitch on Sunday was at 1:35 p.m., so the park opened at around 11:05 a.m. Courtesy of Jake Russell and Alex Schriver, this was the scene outside Nationals Park as gates opened.
People were literally running from the Navy Yard Metro in an attempt to grab a bobblehead, as you can see from this Vine from Eric DeSalvo (Vine is so last week).
Once those lucky (and unlucky) fans arrived, they were treated to a batting practice show from the real Bryce Harper, who is still rehabbing a left knee injury. He received a rousing ovation as he stepped off the field.
By the way, the bobbleheads that were handed out for free Sunday are going for as much as $150.00 on eBay. Oh, and the Nationals lost to the Rockies 7-6.
---
Follow Adam on Twitter @AdamVingan and e-mail your story ideas to adamvingan (at) gmail.com.