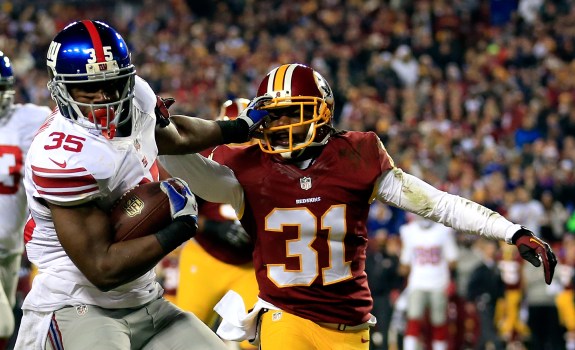 Getty Images
Oft-disciplined Redskins safety Brandon Meriweather was suspended yet again this past week for his dangerous hit on Ravens wide receiver Torrey Smith, his sixth violation of NFL player safety rules.
Meriweather's appeal was denied Saturday, meaning that he will miss the first two games of the season against the Texans and Jaguars. Once the league's decision came down, teammates DeAngelo Hall and Ryan Clark took to Twitter to voice their displeasure.
Clark in particular has been critical of commissioner Roger Goodell in the past. In May, Clark criticized Goodell for how he was handling the situation involving Colts owner Jim Irsay, who was arrested in March for allegedly operating a vehicle while intoxicated.
Meanwhile, Smith actually defended Meriweather on Twitter in a response to former wide receiver Plaxico Burress, saying that he did not believe that Meriweather should have been suspended for the hit. Yet the NFL saw it differently.
The Redskins placed Meriweather on the reserve/suspended list to start the season in an effort to reach the required 53-man roster.
---
Follow Adam on Twitter @AdamVingan and e-mail your story ideas to adamvingan (at) gmail.com.