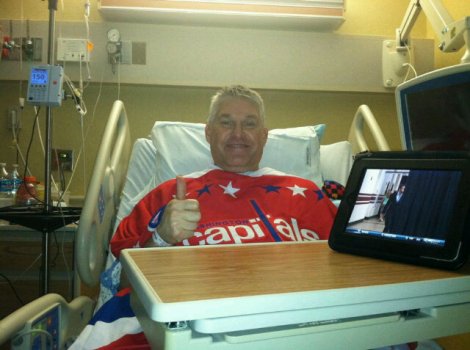 @Laughlin18
The Washington Capitals' beloved television broadcast team of Joe Beninati and Craig Laughlin finished their 2011-12 season after the Caps defeated the Boston Bruins in Game 7 of the Eastern Conference Quarterfinals about two weeks ago.
Yet, like any hockey player after a grueling season, "Locker" underwent surgery this week to fix his ailing hip.
While watching Monday's Game 5 against the New York Rangers in his hospital bed, Laughlin made sure to Rock The Red, as you can see above.
Unfortunately, the Caps fell short in a 3-2 overtime loss, which did not do Laughlin's hip any good:
Somebody get me 50 CCs of winning, stat!
---
Adam Vingan is co-founder and editor of Kings Of Leonsis, a Caps-centric blog. Follow him on Twitter @Adam_KOL and e-mail your story ideas to adamvingan (at) gmail.com.