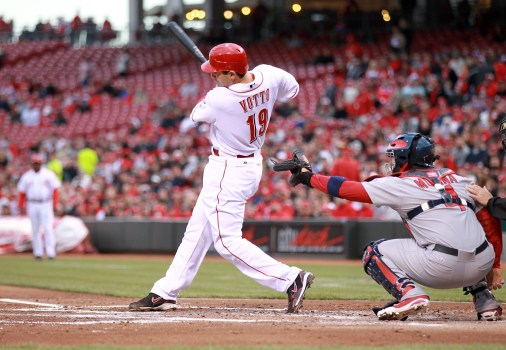 Getty Images
This season, the Washington Nationals want you to "ignite your Natitude," but after the Cincinnati Reds avoided a four-game sweep in a 8-5 victory over the Nationals Sunday, first baseman Joey Votto broke the 11th Commandment: "Thou Shalt Not Infringe on Thy Opponent's Gimmick."
"We certainly didn't want to play four games and get swept," Votto said in an inteview with Fox Sports Ohio. "They showed a lot of Natitude the first three games. We showed some Cincinnatitude in the last game."
"Cincinnatitude" has already earned its own Twitter account, which was promoted by team public relations manager Michael E. Anderson.
The Nats and Reds meet again May 11-13. Perhaps that series has now taken on new meaning. Probably not, but hey, a rivalry over a marketing campaign is still a rivalry.
---
Adam Vingan is co-founder and editor of Kings Of Leonsis, a Caps-centric blog, and is the Capitals Editor for SB Nation. Follow him on Twitter @Adam_KOL and e-mail your story ideas to adamvingan (at) gmail.com.