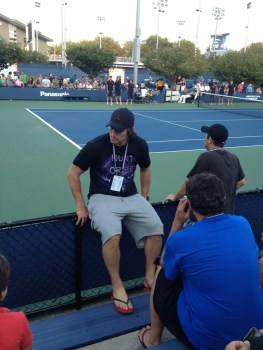 @Small_Meadow
According to @Small_Meadow, a guard had to tell Ovechkin to get off the fence. Classic Ovi.
Washington Capitals forward Alex Ovechkin has played the part of the doting boyfriend brilliantly this summer, following his tennis-playing girlfriend, Maria Kirilenko, while she participated at Wimbledon and the Olympics. He even made a pit stop in New Haven, Conn.
Ovi is now in New York to cheer on Kirilenko at the U.S. Open, which was the site of what might be the most Ovechkin-like thing Ovechkin has done this summer:
I've got nothin'.
Happy Labor Day!
---
Follow Adam on Twitter @AdamVingan and e-mail your story ideas to adamvingan (at) gmail.com.